Ethical and Social Issues of Co-Intelligent Monitoring and Assistive Technologies in Dementia Care (EIDEC)


Funding: German Ministry of Education and Research (BMBF)

Duration: Jan. 2020 – Jun 2023
Project partners: Carl von Ossietzky University of Oldenburg; University Medicine Rostock; German Center for Neurodegenerative Diseases (DZNE)
Background
Dementia care is undergoing a major transformation as a consequence of demographic aging and technological developments. New co-intelligent monitoring and assistive technologies have become available to monitor and support the behavior of people with dementia. The aim is to promote independent living, detect or predict impending problems, relieve caregiver burden, and increase the overall quality and cost-efficiency of care. These socio-technical systems are using artificial intelligence, semantics and human interpretations, which is why we call them "co-intelligent".
Objective
This project consortium examines co-intelligent systems in the everyday life environment of informal as well as institutional care settings. By combining approaches from technology assessment and empirically informed ethics, we investigate social acceptability and moral assessment using qualitative empirical methods. Thereby, we are interested in the following stakeholders from different backgrounds:
patients
family caregivers
professional caregivers
The ethical analysis focuses on two important norms of dementia care:
Project findings
International Symposium "The Future of Assistive Technologies in Dementia Care – An Interdisciplinary Dialogue"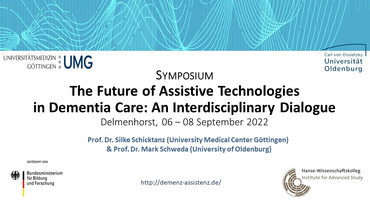 The international symposium, organized within the framework of the EIDEC project by the project team around the principal investigators (PIs) Silke Schicktanz, Mark Schweda, Andreas Hein, Stefan Teipel, Thomas Kirste and project coordinator Julia Perry in cooperation with the Hanse-Wissenschaftskolleg, took place from September 6 to 8, 2022 at the Hanse-Wissenschaftskolleg (HWK) in Delmenhorst. The conference focused on the future of intelligent assistance systems in dementia care and hosted well-renowned scientists to highlight innovative, but at the same time challenging research questions on assistive technologies in dementia care. For this purpose, current research projects were shared and discussed in an interdisciplinary context over three days, and consideration was given to how project results can also be transferred to actors outside academia. In addition, the conference gave researchers insights into the results of our research project EIDEC.
We recorded the contributions and discussions audio-visually to make them available for you in the form of three videos. We would like to thank Alicia Teschner in particular for creating the videos.

Programm
Day 1: Tuesday, September 06, 2022
Welcome and Introduction.
Prof. Silke Schicktanz and Prof. Mark Schweda
Presentation: A Novel Cognitive Assessment Scenario in Dementia Using Social Assistive Robots.
Associate Prof. Filippo Cavallo, University of Florence, Florence, Italy
Viewpoints: Value-Sensitive Design in Practice: Insights and Challenges.
Prof. Thomas Kirste, Prof. Andreas Hein and Prof. Stefan Teipel
01:21:15-02:12:50
Presentation: Anatomy is Not Destiny: Creating Eyeglasses for the Mind.
Prof. Gerhard Fischer, University of Colorado, Boulder, USA
Here are the slides to download as PDF
Keynote Lecture: Tackling Loneliness in Diverse Communities: Value Sensitive Design of Social Robotics for LGBTIQ Elderly.
Prof. Oliver Burmeister, Charles Sturt University, Orange, Australia
Here are the slides to download as PDF
Day 2: Wednesday, September 07, 2022
Presentation via Zoom: Artificial Systems with Moral Capacities? Theoretical Foundations and a Roadmap for a Geriatric Care System.
Prof. Catrin Misselhorn, University of Göttingen, Göttingen, Germany
Presentation: The Value and Role of Smart Technologies in Caring for Older Persons with Dementia.
Dr. Tenzin Wangmo, Universität Basel, Basel, Switzerland
Viewpoints: Ethical Challenges of Assistive Technologies: An Empirical Assessment of Affected Persons' Attitudes.
Prof. Silke Schicktanz and Prof. Mark Schweda
01:56:26-02:52:48
Presentation via Zoom: Confronting Power in Our Conversations about Ethics in Dementia Care Technologies.
Associate Prof. Clara Berridge, University of Washington, Seattle, USA
Day 3: Thursday, September 08, 2022
Presentation: "The Technological Way of Being" and Human Flourishing in Health Care: Antithesis or Synthesis?
Prof. Fabrice Jotterand, Medical College of Wisconsin, Milwaukee, USA
Keynote Lecture via Zoom: In Dementia Care, Have We 'Grown Mechanical in Head and in Heart'? And If So, So What?
Prof. Julian C. Hughes, Bristol Medical School (PHS), Bristol, UK
Final Discussion and Future Directions: Points to Consider
Scientific Posters
Three-part video series "Digital Assistance Technologies"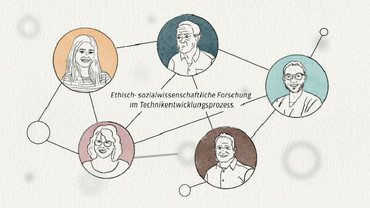 The introduction of new technologies, such as digital assistive technologies for people with dementia, is associated with various ethical and social challenges. This three-part video series shows the added value of ethical and social science research in the technology development process and how different actors can be involved in the process.
The video series was produced in spring 2023 and was supported by the German Federal Ministry of Education and Research (BMBF). We would like to thank Prof. Dr.-Ing. Gesine Marquardt & Dr.-Ing. Kathrin Büter from the Faculty of Architecture at the Technical University of Dresden for planning and coordinating the graphic and technical implementation.
Video 1 focuses on the perspective of the technology developers. The video illustrates the potential of ethical-social science research in the technology development process and the importance of creating ideal-typical user profiles. These enable conflicting goals and values to be presented and can be integrated into the technology development process in a further step.
Video 2 focuses on the perspective of professional caregivers. The video focuses on the role of nurses in recognizing difficulties in the technical implementation of digital assistance systems in practice. It also shows how nurses can get involved in the process of technology development and further development.
The video focuses on the perspective of those affected by dementia. The video discusses how individual needs must be considered when using digital assistance technologies. But also how important the experiences of dementia patients with the technologies are for the further development of assistance systems.
Further information on the development and implementation of the video series
Planning and coordination of the overall project:
Prof. Dr. Silke Schicktanz (Medical Ethics, University Medical Center Göttingen)
Leading scientists of the subprojects:
Prof. Dr. Andreas Hein (Health Engineering, Carl von Ossietzky University Oldenburg)
Prof. Dr. Thomas Kirste (Computer Science, University of Rostock)
Prof. Dr. Mark Schweda (Medical Ethics, Carl von Ossietzky University Oldenburg)
Prof. Dr. Stefan Teipel (University Medical Center Rostock/ German Center for Neurodegenerative Diseases e.V. (DZNE))
Inputs for ideas and scripts of the present videos came especially from the following participating scientists:
Eike Buhr, M.Ed. (Carl von Ossietzky University Oldenburg)
Dr. Rebecca Diekmann (Carl von Ossietzky University Oldenburg)
Sabrina Krohm, M.A. (University Medical Center Göttingen)
Julia Perry, M.A. (University Medical Center Göttingen)
Salman Shaukat, M.Sc. (University of Rostock)
Johannes Welsch, M.A. (University Medical Center Göttingen)
Planning and coordination of the graphical and technical implementation:
Prof. Dr.-Ing. Gesine Marquardt (Faculty of Architecture, Dresden University of Technology)
Dr.-Ing. Kathrin Büter (Faculty of Architecture, Dresden University of Technology)
Graphics, animation and editing:
Charlott Kurek (Communication Designer Dresden)
Narrator and sound recording:
Anne Grabowski (episode 1 and 3)
Mike Langhans (episode 2)
Publications SP 4 - Professional perspectives on CIMADeC and the ethics of empowerment