Prof. Dr. Silke Schicktanz
Department for Medical Ethics and History of Medicine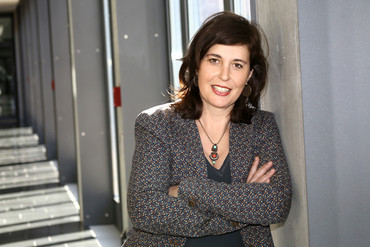 Prof. Dr. Silke Schicktanz
Georg-August-University
University Medical Center Göttingen
Department for Medical Ethics and History of Medicine
Humboldtallee 36
37073 Göttingen
Tel.: +49(0)551 39 69009
Mail: sschick(at)gwdg.de
Since April 2010, Silke Schicktanz is full-professor at the Department of Medical Ethics and History of Medicine at the University Medical Center Goettingen. Her research focuses on the cultural and ethical study of biomedicine.
In 2011 she hold an Adjunct professorship for Philosophy at the San Francisco State University and was 2011-12 visiting research scholar at the University of California, Berkeley by a grant of the Alexander-von-Humboldt-Foundation (see http://bbrg.berkeley.edu/).

She has studied biology and philosophy at the University of Tübingen from 1991-1997. Her PhD thesis on the ethics of xenotransplantation was approved by the University of Tübingen in 2002.
She held various research positions at the University of Tübingen (1999-2000), at the Max-Delbrück-Center for Molecular Medicine/Forschungszentrum Jülich (2002-2003) and at the Department for Ethics, History and Theory of Medicine at the University of Muenster (2004-2005). Being interested in public dialogue and engagement, she was project leader of the first nation-wide citizen conference on genetic testing, held at Deutsches Hygiene-Museum in Dresden (1/2001-2/2002).

She was reviewer for the ERC Advanced Review Panel SH4 (2009-2013; 2015-2017).
Since 2019, she has been a member of the IRG Gene Technology Report based at the Berlin-Brandenburg Academy of Sciences and Humanities and, since August 2020, appointed member of the Central Ethics Committee for Stem Cell Research.
In September 2022, she was elected as the new president of the Academy of Ethics in Medicine, the German-language scientific association for ethics in medicine and health care.
Ethical and cultural studies of biomedicine (research, translation, health care systems)
Cultural differences within bioethics, globalisation of life science research
Concepts of collectivity in bioethics
Public and stakeholder engagement in bioethics – methods and concepts
Relationship of ethics and empirical studies
10 current and important publications
Raz, A. & Schicktanz, S. (2016): Comparative Empirical Bioethics: Dilemmas of Genetic Testing and Euthanasia in Israel and Germany. Springer Brief in ethics, 120 pages
Leibing, A. & Schicktanz, S. (eds.) (2021): Preventing Dementia? Critical Perspectives on a New Paradigm of Preparing for Old Age. Berghahn: New York, 248 pages. Open Access.
Buhr; L., Schicktanz, S. (2022): Individual benefits and collective challenges: Experts' views on data-driven approaches in medical research and healthcare in the German context. In Big Data & Society 9 (1), 205395172210926. doi: 10.1177/20539517221092653
Alpinar-Sencan, Z., Schicktanz, S., Ulitsa, N., Shefet, D., Werner, P. (2021): Moral motivation regarding dementia risk testing among affected persons in Germany and Israel. In: Journal of Medical Ethics, online ahead of print. doi: 10.1136/medethics-2020-106990
Rodríguez-Arias, D., Molina-Pérez, A., Hannikainen, IR., Delgado, J., Söchtig, B., Wöhlke, S., Schicktanz, S. (2021): Governance quality indicators for organ procurement policies. In: PLoS ONE 16 (6): e0252686. doi: 10.1371/journal.pone.0252686
Schicktanz, S., Michl, S., Stoff, H. (2021): Bioethics and the argumentative legacy of atrocities in medical history: Reflections on a complex relationship. In: Bioethics 35 (6): 499–507. doi: 10.1111/bioe.12841
Hansen S., Pfaller, L., Schicktanz, S. (2020): Critical analysis of communication strategies in public health promotion: An empirical‐ethical study on organ donation in Germany. In: Bioethics 35 (2): 161–172. doi: 10.1111/bioe.12774
Beier, K., Schweda, M., Schicktanz, S. (2019): Taking patient involvement seriously: a critical ethical analysis of participatory approaches in data-intensive medical research. In: BMC Medical Informatics and Decision Making 19 (1). doi: 10.1186/s12911-019-0799-7
Schicktanz, S., Rimon-Zarfaty, N., Raz, A., Jongsma, K. (2018): Patient Representation and Advocacy for Alzheimer Disease in Germany and Israel: The Relevance of Stigma and Disease Conception. In: Journal of Bioethical Inquiry 15 (3): 369–380. doi: 10.1007/s11673-018-9871-8
Schicktanz, S. (2020): Socio-Cultural Studies and Ethical Reflection of Modern Medicine: An Elective Affinity. In: Bachmann-Medic, D. et al. (eds.): Futures of the Study of Culture (Concepts of the Study of Culture, 8). De Gruyter: Berlin, Boston